Toronto Rent per SQF for condos by Postal Code 2018-19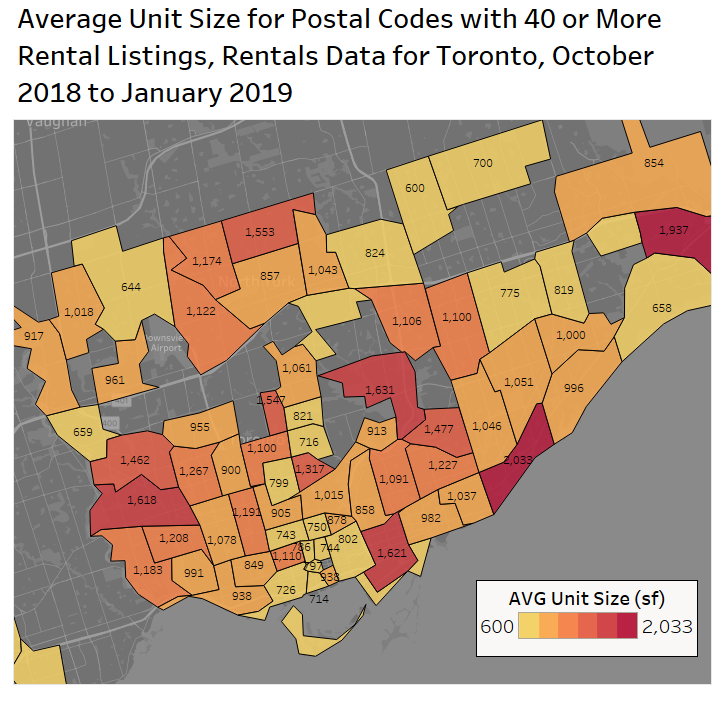 There is a ongoing debate among the real estate industry regarding the impact of planning on demographics, house prices and rents in different parts of cities. New development and new residents are pushed into growth areas, while many low-rise Toronto neighbourhoods have hardly changed over the last 50 years (with the exception of a newly-built "monster" home here and there).
The result of years planning decisions has resulted in very small units downtown and along the waterfront in rental apartment and condominium apartment buildings, and larger single-family and townhouse units in areas where apartments are essentially banned.
The chart below looks at Rentals listings over the past four months for single-family (single-detached and semi-detached homes), townhouses, and condominium apartments. Among these three product types, condo apartments accounted for nearly 70% of the market share. We assigned single-family houses the value of 5, townhouses the value of 4 and condominium apartments the value of 3 to assess the dominant built form for rental listings by postal code in Toronto.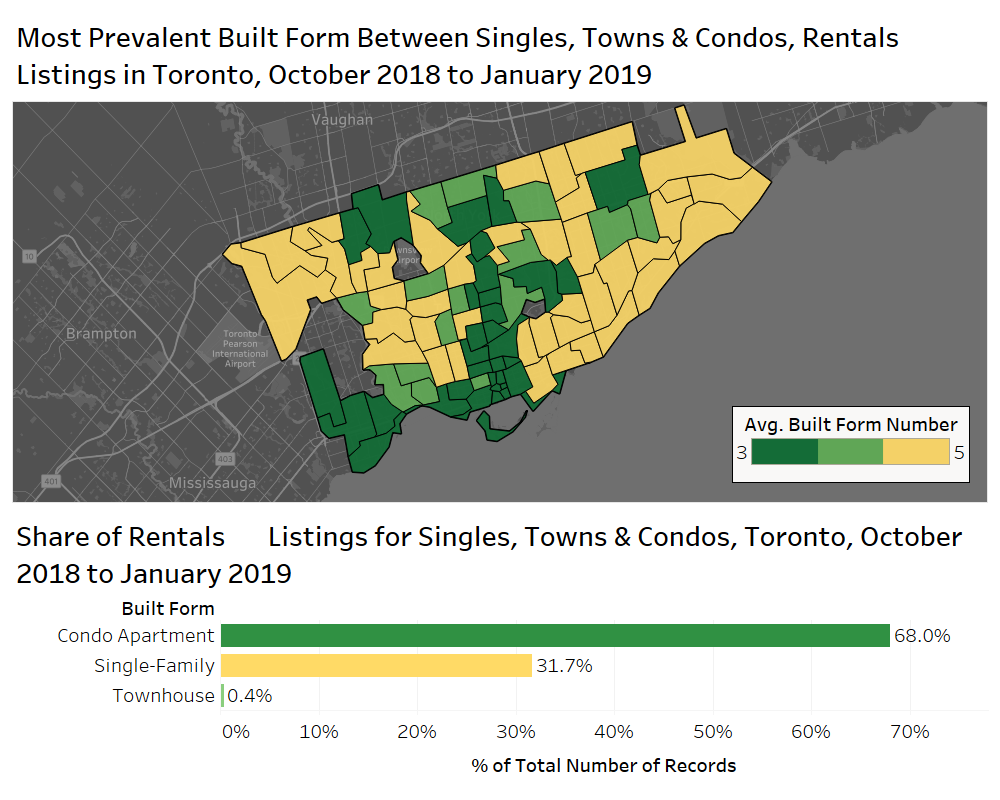 Condo apartments are most prevalent along the Yonge Street spine and along the west waterfront. The light green areas show a mix of single-family and condominium apartment listings in south Etobicoke and upper North York, but a lot of yellow areas in the east Toronto, and Scarborough, as well as north Etobicoke, areas that either have limited new condo development activity, or more end-user condo projects without hold-and-rent investor-landlords.
Another way to see how development patterns and planning have influenced the rental market is to look at the average number of bedrooms in listings by postal code for all housing types: basement apartments, rental apartments, condo apartments, townhouses and single-family homes (see chart below).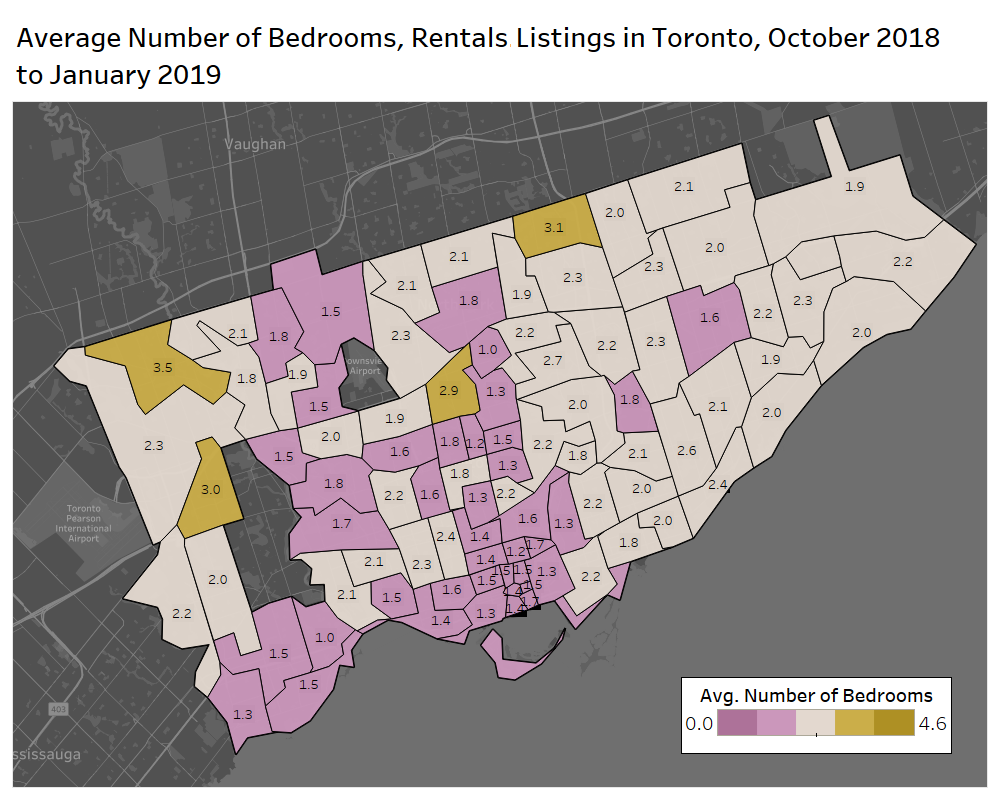 A similar pattern emerges, with the average bedroom count from 1.0 to 1.9 along Toronto's spine and west waterfront due to investor-focused small-unit condo apartment development, while two bedroom and larger units are more prevalent in older rental apartments and single-family homes in all of east Toronto and Scarborough, as well as northwest Etobicoke.
Besides planning, the reason that many of these areas have not seen new condo development is current values in the area are too low, and the areas are not well served by transit to attract younger buyers that can afford these higher new condo prices. Secondly, the rental market is not high enough to justify an investor purchasing in those areas.
The chart below shows the median asking rent per-square-foot for condominium apartments in Toronto over the past four months by postal code.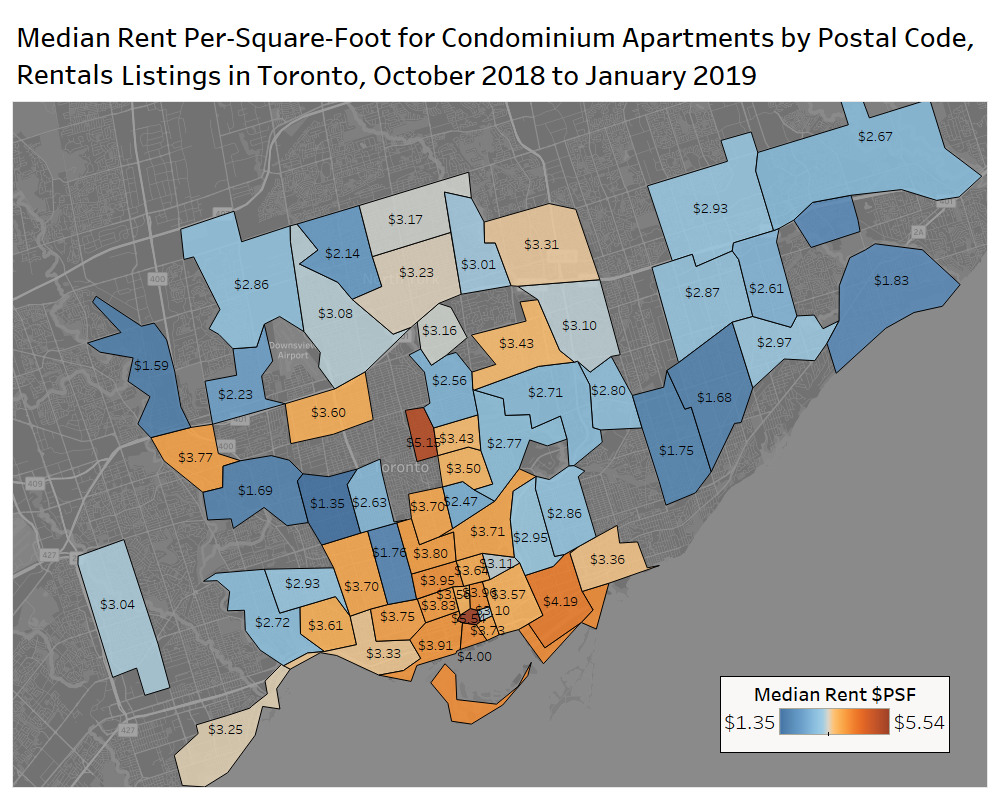 Most of the high-rent condo areas are located right downtown: access to transit, access to jobs, access to entertainment, walkability, and dynamic and evolving neighbourhoods are the key draws for tenants. Areas pushing above $3.00 psf will see more condo development, and perhaps more rental apartment development as well. Bullpen expects more rental growth along the Eglinton west and Eglinton east with the Crosstown LRT going in. Secondly, look for values to climb in the downsview area with the new subway extension and improvements to the area surrounding Yorkdale and Downsview Park itself.
The chart below looks at average rental rates by postal code in Toronto for rental apartments only. This map shows that there is a lot of room for rental growth in Scarborough, and in the pocket from Steeles to Dundas (north-south) to Dufferin to Jane (east-west).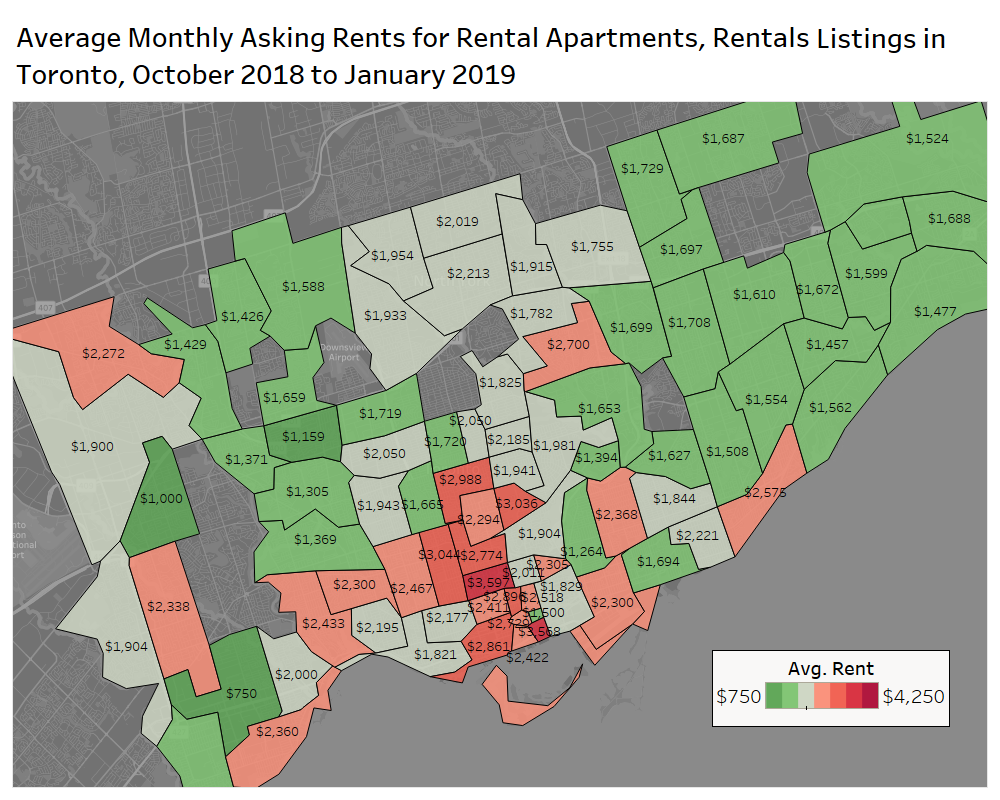 Source : Bullpen Consulting