feedback rate 10 of 10
I got a very good service and these guys are very punctual and polite
Hamid Mirtaheri
April 2019
I am highly satisfied with received services.They considered all my requirements and proposed and showed me many projects satisfying my requirements. The proposed options were discussed and studied professionally to select the best option meeting my needs.I would highly recommend them to friends and relatives.
Parviz
March 2019
Maziar was a pleasure to have as my real estate agent. Maziar never left any questions unanswered and always responded promptly. I would highly recommend as he understood our taste very well. I know from experience as we were able to find the condo that suit us right in a week.
Maral and Arman
I want to say thank you to Maziar for his support and helping  me to purchase my favorite apartment!
Maziar is professional and informative, he explained everything about pre-construction  market  risks and benefits. He presented best available options considering my preferences  and saved me lots of time and energy.
I recommend Maziar to all amateur and professional buyers! 
It was my great pleasure to work with you. Thank you for your professional service you provide.
It was very helpful helping us to find the best price and the best location fit to our target in the short period of time.
I will recommend you to all potential customers and my friends.
Maziar,
You have been a huge blessing!  Your service has been exemplary and you kept my sanity during this ordeal of finding a suitable apartment for my daughter and cousin.
Residing outside of the country, I did not know where to turn in looking for a place for my daughter and my cousin but you reassured me; guiding and including me each step of the way.   I  felt assured and confident that you had by best interest at heart.
I would definitely recommend you to anyone else who is moving to the city and needs a knowledgeable and supportive real estate representative.
Many thanks,
"My first experience with Home Leader Realty very helpful. Not only did Maziar help me find the property that best suited my needs, he also was very informative during the process. As a first time home buyer he ensured that he broke down every step of the home buying process and made sure I was completely comfortable with every step before we moved forward.
Additionally I found his website to be very clear and descriptive as well. It was the online presence that first sparked my interest and I was very glad It did.
I hope that this can be a continued relationship, as I aspire to purchase more property in the future!"
Hey here is Ryan personal website. check it out http://ryanwrightbasketball.com/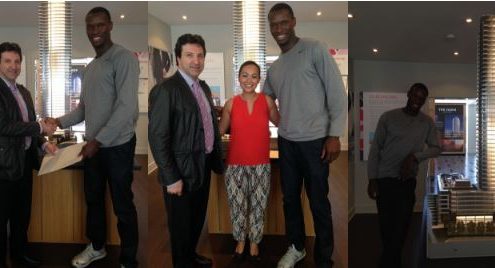 working with Maziar we always felt that we we're cared for and he was doing all he could to educate us on the process of buying/selling. I know we got great value for our hard earned money and we would work with him again and again
Best, Erin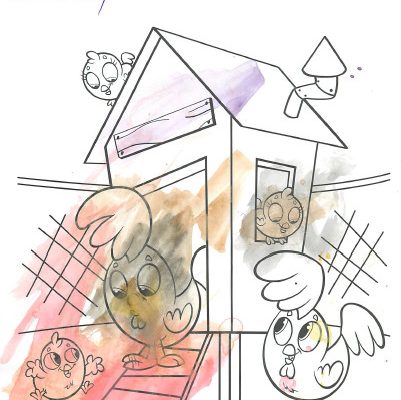 Hi Maziar, Vera and I would like to express our appreciation for the excellent service and effort provided
by yourself, and Home Leader Realty on the sale of our home.  As our selling agent, you proved to be
professional, knowledgable, courteous and informative.  Our home sold in 8 days!  We will highly
recommend your services to others.
Job well done!
Mr. Maziar Moini was great to work with, very professional and considerate. This was our first time selling a condo and he took the time to explain the process and guide us through each phase from the listing to showings to the final negotiations. He was always available to answer all our questions and worries. He was essential in getting our condo sold quickly and was able to best represent us and our unique needs in the process.
I have worked on several real estate project with Mr. Moini. Each experience has been great and I have always been impressed with his vast knowledge of market trend, investment ideas and general information that bring to his client and other professional. It is a privilege to endorse Mr. Moini and I am certain he has endorsement of many other professinal.
"Maziar is fair, honest, knowledgeable, and working with integrity. It was a pleasure doing business with him and I will definitely work with him again whenever there're chances."
"Working with Maziar had been nothing but pleasure, his competence and professionalism is the standard of which each person in his line of work should posses. My firm and I would not only recommend him but also encourage anyone who is looking for the kind of service this industry deserves and should demonstrate."
"I had the pleasure of working on a multi-million dollar deal with Maziar in June 2011. He was very knowledgable and helpful with his advice and strategies on making the deal go through. Unfortunately the Buyer backed out due to unforcasted circumstances, and Maziar and I had to let the deal fall through. Although, he showed his sincerety and loyalty by calling me a few months after the deal died to keep me in tuned with another potential buyer for a development site. His true colours shined and I'm grateful to know such a truthful, honest gentleman, mentor, and business colleague. I recommend Maziar for all your real estate needs."
"Maziar, is thorough, he is diligent, he delivers on his promises and i look forward to working with him in the future."
"I would highly recommend Maziar for all of your real estate needs, including condominium (VIP) purchases, estate properties, in Toronto. He has been one of most productive Brokers of Record in Toronto Real Estate Bored."
"I have found Maziar very knowledgeable, prompt and curious. Always managed to bring good developmental opportunities to me. He is definitely a great asset as a real-estate broker."
"Eager and friendly… Maziar is always a great energy to be around."
"Maziar's comprehensive research, knowledge of the markets and VIP access to various new developments propels him above and beyond his competition. Maziar's evolving website and email updates ensure that his clients are provide with the latest information with regards to new developments in the GTA and surrounding areas. In a day and age where technology dominates, those who live to adapt to this changing world will succeed. I see Maziar's ambition to please his clients and get the best possible prices, which is why I would recommend him to anyone seeking to jump into the real estate game."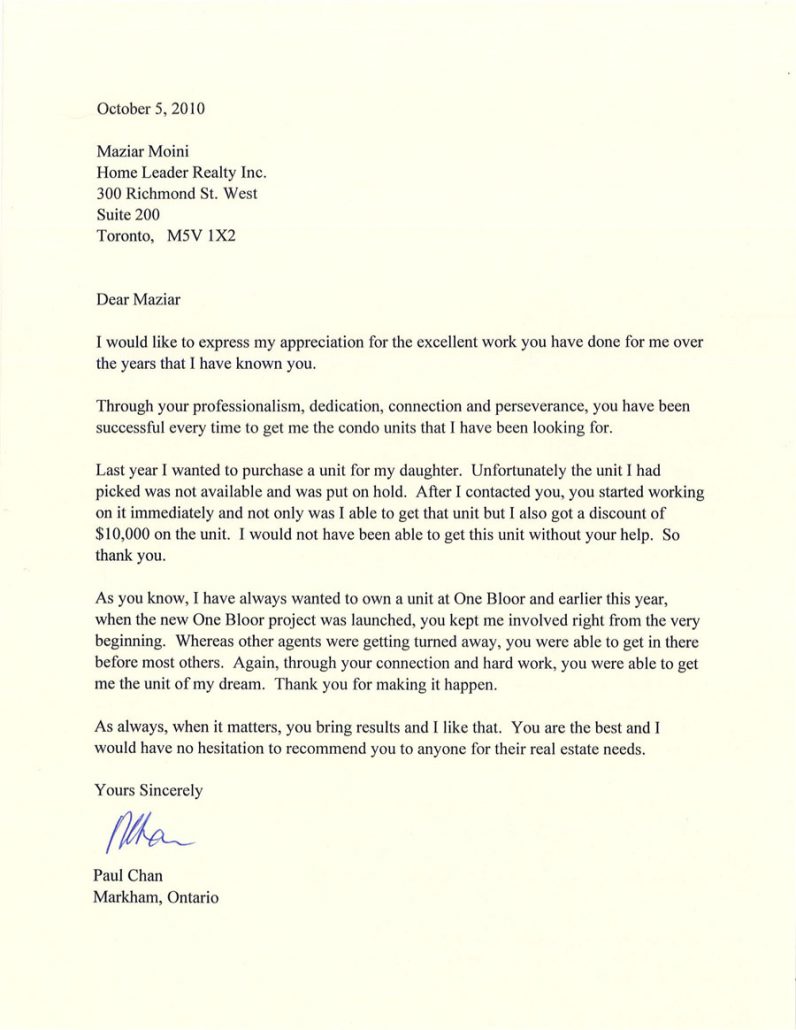 Mr. Maziar Moini
Broker
HomeLife Real Estate Solutions Ltd.
Dear Maziar:
I am writing to you to express my satisfaction of the good service that you provided to me and my gratitude for all your assistance and support.
Selling a property and buying another one are transactions involving enormous stress.  I was really fearful to undertake these difficult tasks. Thanks to your advice, assistance and support, I gained the necessary confidence to carry out successfully my plan.
I appreciated very much your human and caring approach to your clients' needs and particular circumstances as well as your professionalism and strong negotiation skills.
Thank you, Maziar, for all your help!
Best regards,