In a city full of condos, you may be surprised to know that there are only a handful of Toronto condos that allow short-term rentals. Albeit, there are many condo owners and renters that choose to ignore the short-term rental policy their condo building may have in place, but that's a conversation for another day.
QUICK RECAP OF TORONTO SHORT TERM RENTAL REGULATIONS
Short-term rental platforms like Airbnb and Vrbo have grown in popularity over the last decade and popular cities like Toronto are trying to go with the flow and put some regulations in place for the city as a whole. The proposed short-term rental regulations set for Toronto are as follows:
A short-term rental is considered anything fewer than 28 days.
Eligible short-term rental properties must be the host's principal residence.
Hosts can rent up to three rooms or their entire home.
Secondary suites, such as in-law or basement units, are eligible for short-term rental as long as they are the host's principal residence.
Hosts can only rent their property for a maximum of 180 days of the year.
Hosts would have to pay an annual $50 fee and register with the city.
 Hosts will have to pay a 4% Municipal Accommodation Tax (MAT) on rentals fewer than 28 days.
Short-term agencies, like Airbnb, pay a one-time licence fee of $5,000 and $1 per night that's booked
It's also worth noting that Toronto City Council had approved the regulations for short-term rentals at the end of 2017 and beginning of 2018. It has since been appealed to the Local Planning Appeal Tribunal (LPAT) with a scheduled hearing on August 26, 2019. Until then the regulations for short-term rentals are not being enforced.
LIST OF TORONTO CONDOS THAT ALLOW SHORT-TERM RENTALS
The biggest concentration of short-term rentals Toronto has are all within the same area: The Entertainment District. These condos allow for short-term rentals because this is a high-traffic tourist area with countless attractions in and around this part of the city.
Below is the list of condos that allow short-term rentals.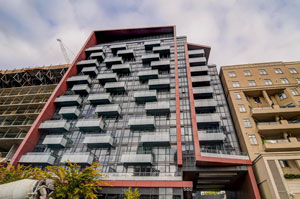 REVE CONDOS
Located at 560 Front Street West, Reve Condos has just over 300 condos and stands 15-storeys. Overlooking the rail corridor on the south and Victoria Memorial Square Park on the north, it is a hop skip and a jump to all things entertainment. Amenities include a gym, sauna, yoga room, party room, theatre and rooftop terrace. Reve Condos is pro-short-term rentals and to accommodate those who do, the Property Management has a short-term rental registration form that must be submitted to the management office with each rental that takes place.
AQUARIUS AT WATERPARK CITY
Located at 219 Fort York Blvd, Aquarius at Waterpark City has 490 condos and stands 38-storeys tall. This condo is nestled between the luscious green of Fort York National Historic Site and Coronation Park along the waterfront. Renters will love the amenities that include a pool, sauna, and rooftop terrace to name a few.
NEPTUNE I & NEPTUNE II
Located at 209 and 215 Fort York Blvd you'll find Neptune I and Neptune II condos. Featuring 861 condo units between them and each comes with a balcony. Neighbour to Aquarius at Waterpark City, these condos also enjoy views of Fort York National Historic Site. Inside, amenities include a pool, sauna, rooftop terrace, party room and media room.
Neptune Condos is one of the first condos in Canada to be part of Airbnb's Friendly Building's Program. As part of the program, hosts renting out their entire unit must pay $50 per month to the building for general upkeep but not those renting out just a room in their unit. Both security and the condo board have access to current rental activity, so they know who is hosting, who and how many guests are staying, and how much money is being being earned — 5% of which is given to the condo board from Airbnb.
ICE I & ICE II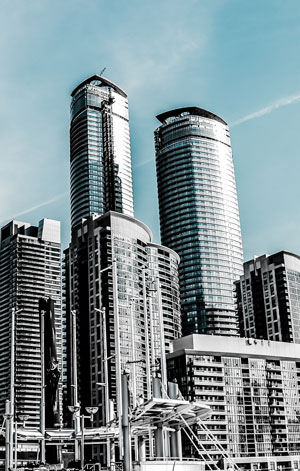 Soaring 67-storeys tall in the heart of the Entertainment District are the ICE Towers. With over 1300 condos in a perfect tourist-driven destination, and knowing the correlation of tourism and rentals, the condo board here does allow short-term rentals. Uniquely, though, condo owners who rent their condos out for fewer than three months at a time are required by the condo board to get a commercial insurance policy of $5MM.
LOCAL AT FORT YORK
The Local at Fort York is a 15-storey condo with 7-storey podium located at 50 Bruyeres Mews. Featuring 249 condos that seemlessly blend modern finishes with the historic appeal of Fort York. Amenities at Local include rooftop terrace with BBQs, sauna and party room.
QUARTZ CONDOS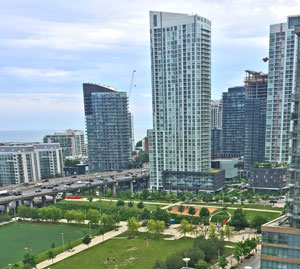 Standing at 41-storeys tall at 75 Queens Wharf Blvd, Quartz Condos has an array of amenities to keep you entertained. From billiards to basketball, a fitness centre and pool. A short walk to the waterfront and the Entertainment District.
SPECTRA CONDOS
Neighbour to Quartz Condos is Spectra at 85 Queens Wharf Boulevard. Standing at 39-storeys with views of the lake, the CN Tower and tons of green space. Spectra and Quartz Condos share amenities that are referred to as the Prism Club and have more than your traditional condo with pool and hot tubs, basketball courts, yoga studios, and stunning rooftop terrace to name a few.
MAPLE LEAF CONDOS
Rising above the Scotiabank Arena are Maple Leaf Condos at 55 and 65 Bremner Boulevard. For those who want to be in on the action, this place is for you. Get to the Scotiabank Arena for a Raptors or Leafs game without even going outside. The Rogers Centre is also just a stone's throw away. The only downfall is short-term rental guests don't have access to the building amenities. It's also important that guests sign in at the front desk.
STUDIO ON RICHMOND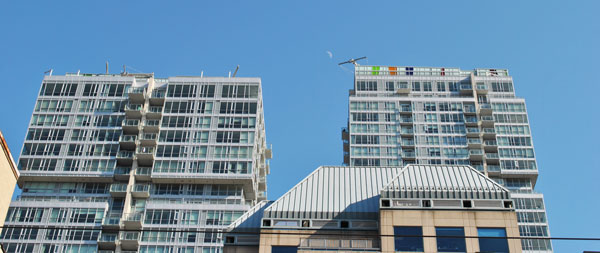 Located in the heart of the Downtown Core at 199 Richmond Street West is Studio on Richmond Condos. This 31-storey condo has some condos that are over 3,200 square feet. Located around the corner from the shops and restaurants of Queen West and the entertainment of the Entertainment District, there's no better location for those seeking short-term rentals.
QWEST CONDOS
Qwest Condos at 168 Simcoe Street is just down the street from Studio on Richmond. While they have been known to allow condo owners to rent their condos on short-term rental platforms they're less clear on their rules. Word of advice would be to confirm with management ahead of renting out your condo on Airbnb or otherwise.
WATERCLUB CONDOS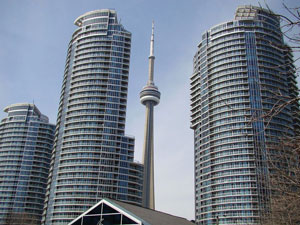 Waterclub Condos at 8 York Street is in the true heart of tourism. Walk out to the Toronto Harbourfront beyond your door or up the street to the Scotiabank Arena. Amenities here include a billiards room, party room, rooftop with BBQs, and an indoor/outdoor pool. Perfect for peak tourist season. The views from this 37-storey condo are breathtaking: lake views, CN Tower and city views! You'll have no trouble renting a condo here.
THE VERVE CONDOS
The Verve Condos is the only one on the list that's not in the downtown core. Located at 120 Homewood Avenue adjacent to charming Corktown, shops on Bloor, and even Yonge-Dundas Square. The view from the Verve's rooftop pool are breathtaking — 40-storeys up with cabanas and a hot tub too.
HARBOUR VIEW ESTATES II
Located at the corner of Spadina Avenue and Bremner Boulevard is Harbour View Estates II. This 49-storey condo is on the corner of the Entertainment District. A popular choice for short-term rentals with its proximity to all things Toronto: the Rogers Centre, Scotiabank Arena, the Rec Room, CN Tower, and Ripleys Aquarium to name a few. Easily get around on transit or by foot.
PARADE I & PARADE II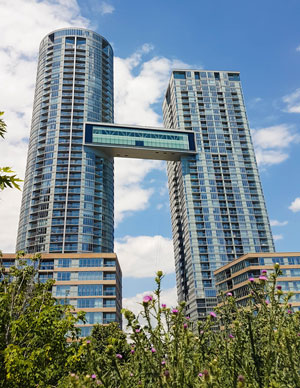 The Parade Condos are iconic with iconic Skybridge that connect the 39 and 43 storey towers. Located at 15 and 21 Iceboat Terrace, these tall towers are easily identifiable along Toronto's skyline. The Party Zone is equipped with free WIFI, they have a games room, theatre, squash courts, gym, pool and even mani-pedi rooms. It's the perfect "hotel alternative" and condos for sale at Parade I & II are more affordable than some other Toronto condos.
If you're interested in buying a condo that permits short-term rentals, be sure to keep your eye on the ruling of Toronto short-term rental regulations this summer. Be kind to your neighbours and do your research. While short-term rentals in these building in the Entertainment District will surely be easy to rent, Toronto's rental market in general is also very competitive and rents are at an all time high.
INDX Condos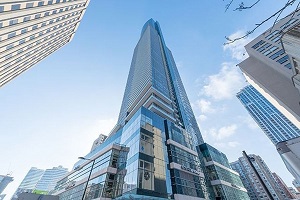 Located in The Core neighbourhood, this Toronto condo was completed in 2015 by Lifetime Developments. You will find INDX near the intersection of Richmond St West & Bay St West in Toronto's Downtown area. Spread out over 53 stories, suites at INDX will range in size from 365 to 1035 sqft. This Toronto condo will have 784 condo units and is set to be located at 70 Temperance Street. This condo will offer it's residents amenities such as a Gym / Exercise Room, Common Rooftop Deck, Concierge and Party Room. Other amenities include a Media Room / Cinema and Games / Recreation Room.
If you need help crunching the numbers and want to know the best way to use your condo investment in Toronto's market, book a call to discuss.
https://locatecondo.com/wp-content/uploads/2019/08/images-1-1.jpg
630
840
Mahyar Rezapour
https://locatecondo.com/wp-content/uploads/2017/01/logo4-300x91.png
Mahyar Rezapour
2019-08-06 14:33:17
2019-08-13 14:51:18
TORONTO CONDOS THAT ALLOW SHORT-TERM RENTALS