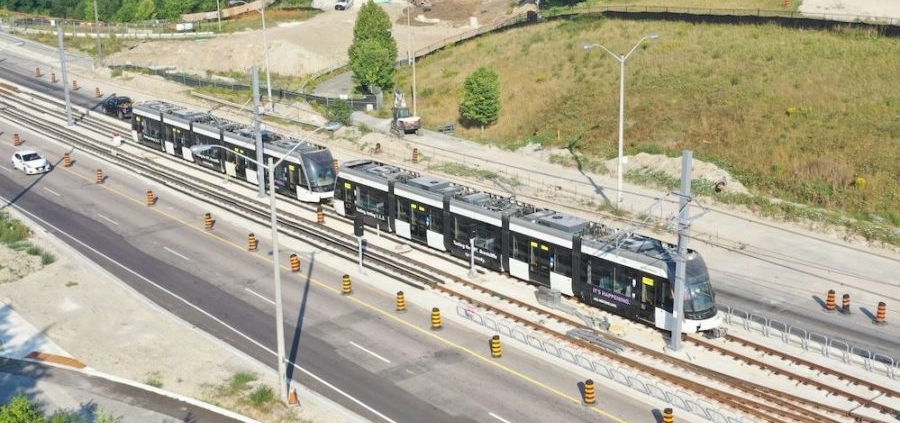 The Ontario Government laid out plans this week for two new transit lines that would further connect the GTA and the Greater Golden Horseshoe region.
The province's 30-year transportation plan, released on Thursday, details several in-the-works and planned future projects, including the construction of the controversial Highway 413. But amongst the list were two new undertakings: an Ontario Line to Toronto Pearson Airport connection and a Burlington to Oshawa line.
The latest infrastructure plan, entitled "Connecting the GGH: A Transportation Plan for the Greater Golden Horseshoe," comes just 12 weeks before the provincial election. Ford committed to spending $82B over the next decade on several transportation projects, including the two highway projects, expanded passenger rail service, new subway lines, and expansions of several existing highways.
Until now, the Ontario Line, an upcoming 16-km Toronto subway line, was set to run from Exhibition in the west up to the Ontario Science Centre in the east. But the province's transportation plan calls for the construction of an additional transit loop connecting the Ontario Line to "new major transit hubs where regional services connect, including Pearson International Airport and Richmond Hill Centre, and to other subway and GO Rail lines."
If it comes to fruition, the Ontario Line loop wouldn't be the only transit option connecting to the Toronto airport. UP Express trains already offer a route between downtown's Union Station and Pearson Airport, and the planned Eglinton Crosstown West Extension, expected to be complete by 2031, is set to have a Pearson connection as well.
The Ontario Government's second transit proposal would be an even larger undertaking, geographically speaking. The provincial plan lays out an initial concept for an east-west "higher order transit connection" between Burlington and Oshawa. It would run north of Toronto, connecting to existing and planned GO Rail, LRTs, and subways along the way.
"It would transform the regional transit system from today's radial commuter network centred on Union Station to an expansive grid, so people can get where they need to go without going through the downtown core," the report reads. "This new line will build on already protected lands for the 407 Transitway, a bus rapid transit corridor parallel to Highway 407."
The provincial government will carry out a planning analysis for the projects to confirm feasibility, as well as analyze project options and network connectivity.
"This is a plan with purpose, built on the guiding principle to 'get it right' because we simply can't afford not to," Minister of Transportation Caroline Mulroney wrote in the report. "Those choosing to start a family, move for work or build their business in the GGH area are counting on us."
The projects laid out in the Ontario plan encompass all transit upgrades planned from now until 2051, meaning it may be a number of decades before the two proposed additions become a reality.
https://locatecondo.com/wp-content/uploads/2022/03/12122.jpeg
562
900
Mahyar Rezapour
https://locatecondo.com/wp-content/uploads/2017/01/logo4-300x91.png
Mahyar Rezapour
2022-03-14 19:25:42
2022-03-14 19:25:42
Ontario Unveils Massive New Transit Plans For the GTA, Including New Subway Lines