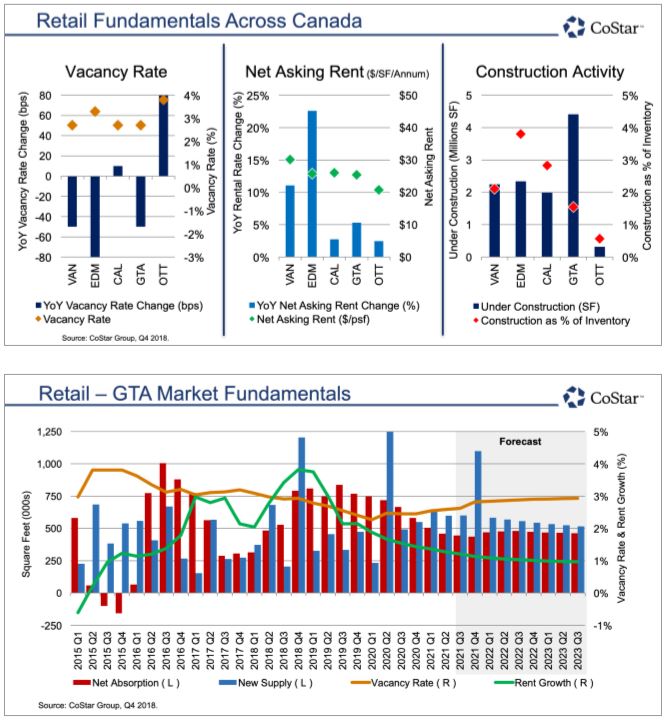 GTA Retail Overview Similar to Vancouver, the GTA retail market continues to receive new international retailers who are either looking to enter the GTA market, or are using the GTA as a launching pad to reach the rest of Canada. The GTA retail market vacancy rate has edged down, by 50 bps year-over-year to end 2018 at 2.7%, with the average net asking rent up 5.3% over the same period to $25.40/SF per annum. Construction activity has been relatively slow, with only 1.5 million SF of new supply delivered over the past year, and construction activity is virtually unchanged from year-end 2017, at 4.4 million SF as of the end of 2018, presenting a mere 1.5% of existing inventory. Despite the new vacant space that came to the market as a result of Sears Canada closing in Q1 2018, the limited amount of new supply is not enough to satisfy the demand from tenants who are struggling to find space amid low vacancy and increasing rents. As a result of this demand, vacancy is expected to actually decrease to approximately 2.5% before once again increasing in 2021.
Despite the impressive fundamentals, there are some clouds on the horizon. The latest national GDP data indicates that retail activity has come off the boil. Furthermore, retail sales have been showing weakness for some time, with much of the total increase as a result of inflation and population growth. Although retails sales growth is expected to remain positive, higher interest rates, which are expected to continue increasing in 2019, along with increasing debt service costs will take a bite out of retail sales. As a result, GTA retail sales are only expected to increase by 0.6% in 2018 but then rebound to increase by 1.4% in 2019, compared to 5.0% in 2017.
In order to combat the effects of e-commerce on the retail market, landlords of premier quality properties continue to work on turning them into experiential destinations. Such an endeavor often goes beyond simply adding more restaurants and services in malls. It can also include ventures such as Ivanhoe Cambridge and Cirque du Soleil, who have teamed up to offer family entertainment centres in shopping centres, due to launch in 2019. Landlords are looking at ways to further differentiate themselves from the rest of the pack in order to attract more shoppers as well as new and better retailers. Expect to see intensification of retail properties and repurposing of parking lots in suburban malls (Yorkdale Mall being one example), and redevelopment (like Aoyuan's plans for Newtonbrook Plaza).
https://locatecondo.com/wp-content/uploads/2017/01/logo4-300x91.png
0
0
Mahyar Rezapour
https://locatecondo.com/wp-content/uploads/2017/01/logo4-300x91.png
Mahyar Rezapour
2019-01-05 17:58:26
2019-01-05 17:58:26
GTA Retail Overview